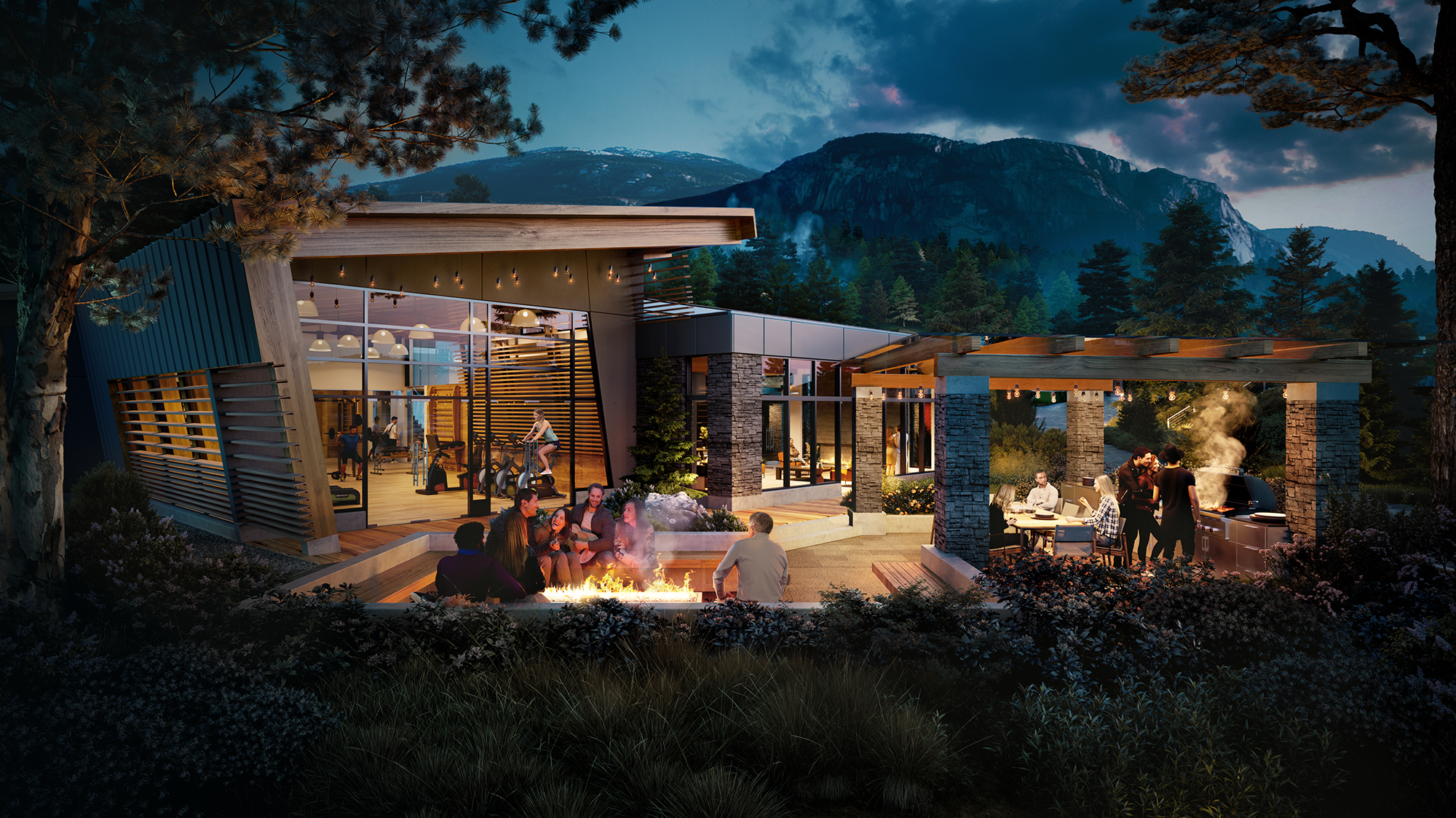 More than 20,000 square
feet of luxurious amenities
for holistic wellbeing
Wellness Amped Up.
An extension of your home. A place for growth, connection and wellness. This is Base Camp™, built for all who actively pursue the best in themselves, and in life. Your centre for connecting, strengthening, exploring, adventuring, relaxing, restoring and rejuvenating,... mind body and soul.
Base Camp™ Supports You
in All Your Endeavours.
Mind
Well-Being Concierge
Co-Creative Space
Video Conference Room
Makers Lab
Smart Parcel Lockers
Games Loft
Gear Maintenance Zone
Body
Eco Movement Lab™
Flow Space
Therapeutic Hot/Cold Plunge Pools
Far-Infrared Sauna
Red Light Therapy Rooms
Shower + Refresh Area
Soul
The Great Room
Zen Garden
Sunset Terrace
Rooftop Community Garden
Pet Spa
Outdoor Kitchen + Living
Chef's Kitchen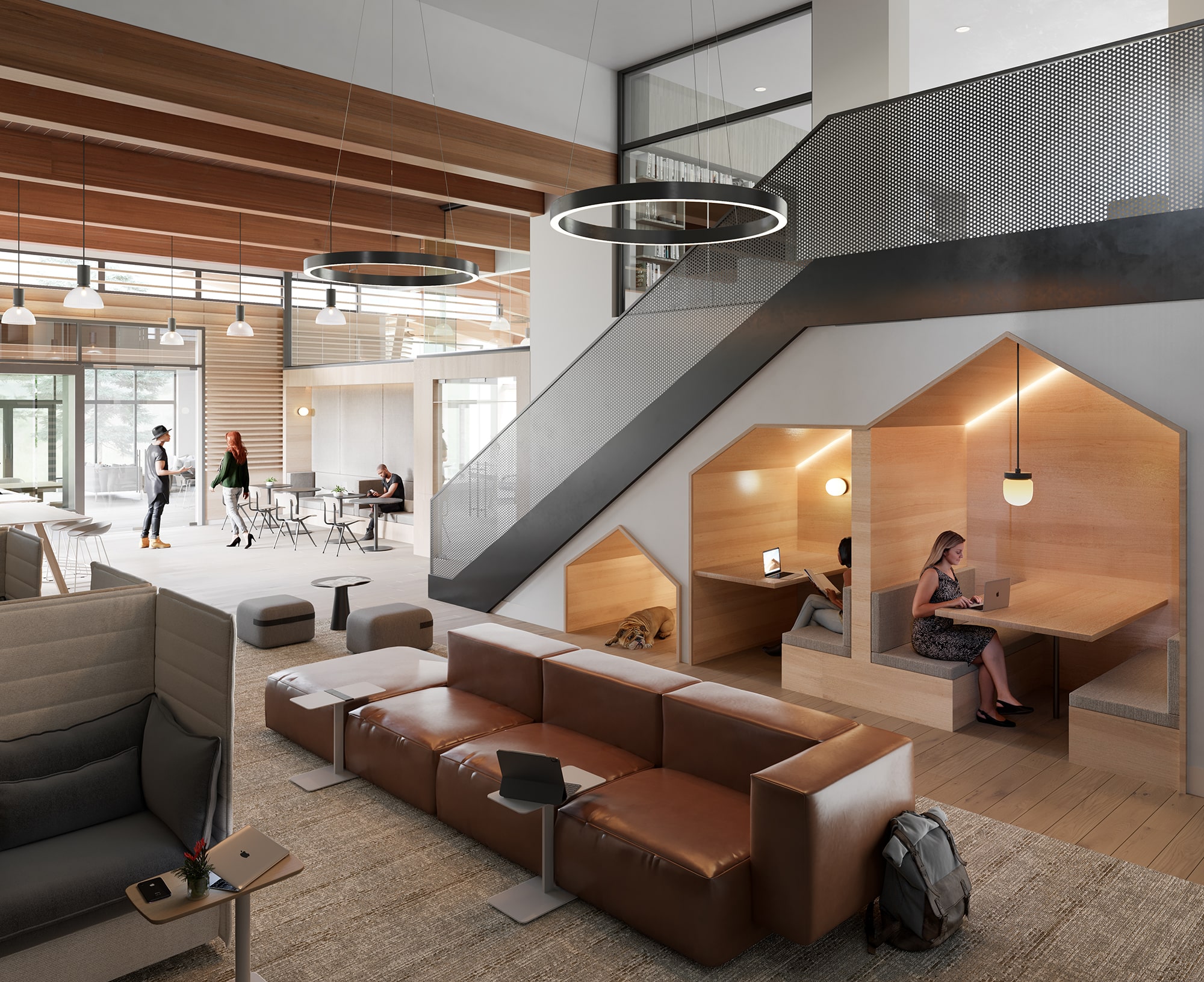 Designed for Next-Generation Creation and Collaboration.
More and more we're discovering the secret to success in life, and work, is balance. Base Camp™ has been created to support you in all your entrepreneurial endeavours, as well as the time you need to relax and recharge. The dedicated Co-Creative Space supports you in furthering your work. Need a meeting room? It's fully equipped and ready to go. Need a quiet spot in an inspiring space? Take your pick. Like to collaborate? We have a purpose-built high table to ideate. And when you need to casually connect with clients, do some research, or simply put your feet up for a while, you can take a seat in the Great Room by the fireplace.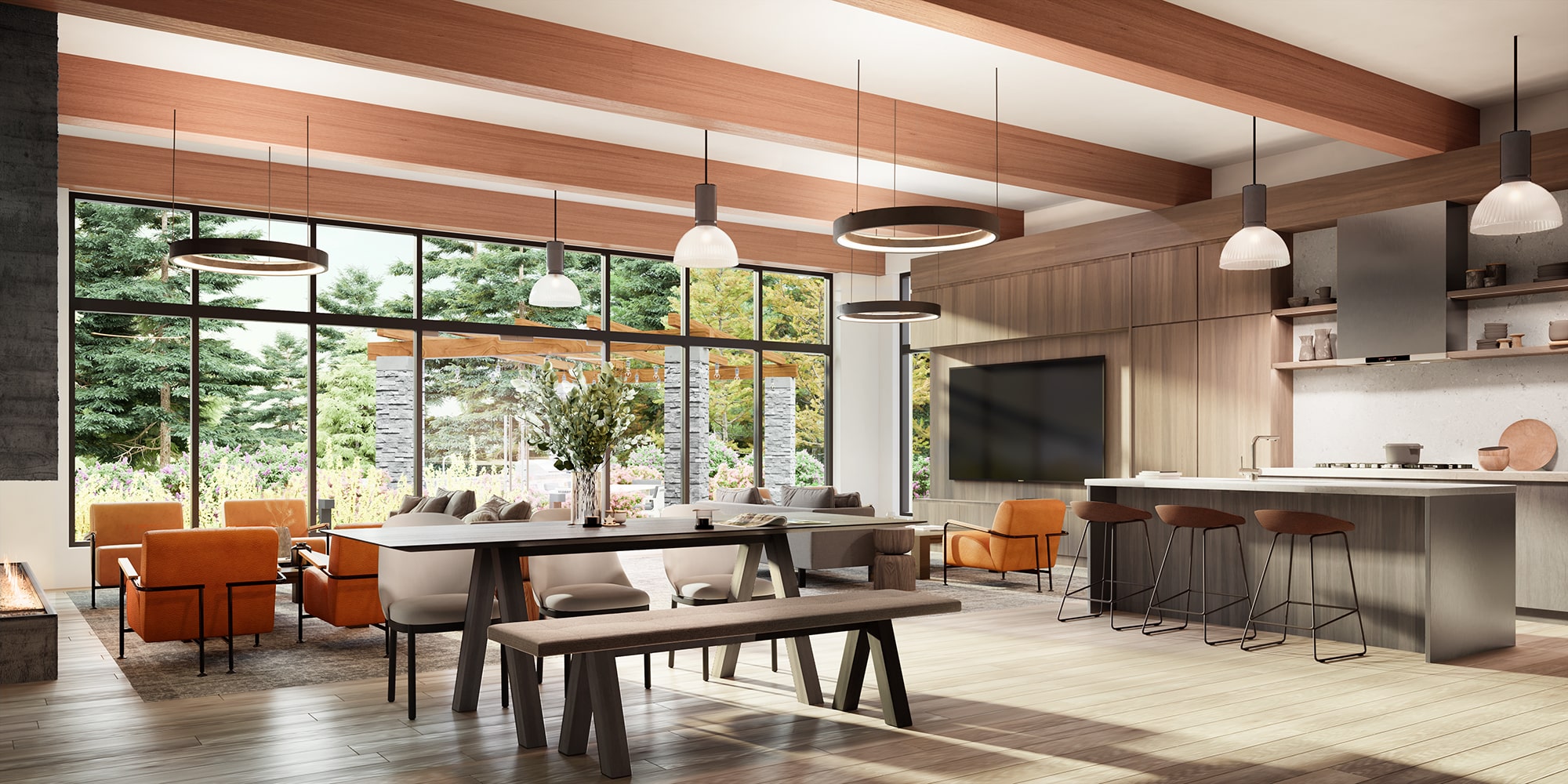 The Space Where Great Things Happen.
Human connection is the most reliable, enduring predictor of happiness in life. And what better way to stay connected, than over food and games? The Great Room offers many opportunities to gather, cook up a feast, and on dark winter evenings, relax with friends by the roaring fire, drink in hand. Or find yourself in the Games Loft playing shuffleboard, ping pong, board games, or watching the game on the big screen. Base Camp™ is purpose-built for forming genuine connections.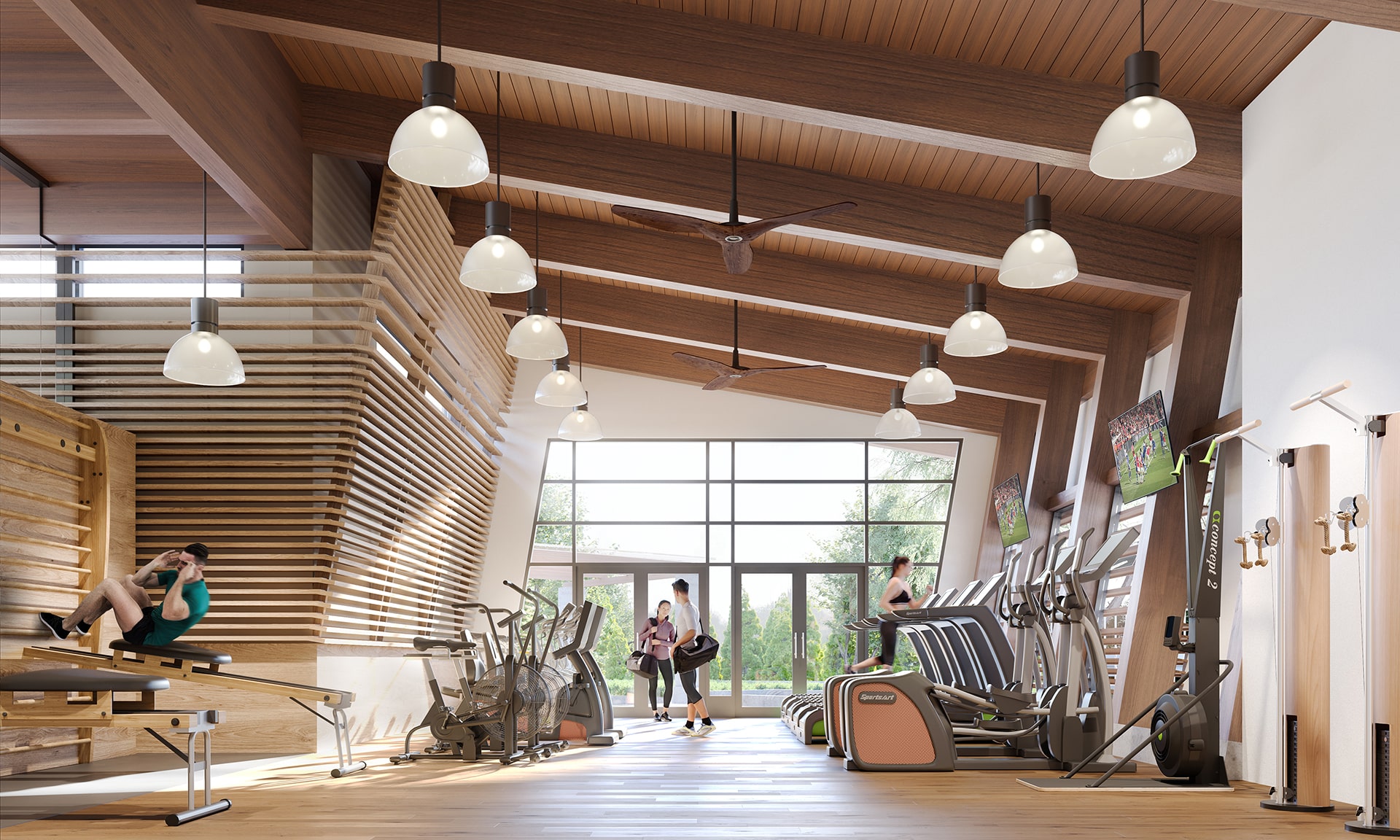 Loosen Up, Bulk Up, Heart Rate Up,
Do it All Here.
Workouts have never been this impactful. Introducing Canada's first zero impact condominium gym - the Eco-Movement Lab™, where the energy of residents powers the gym, minimizing its carbon footprint. You'll be able to track your personal environmental contributions along with your other workout metrics, seeing how many light bulbs you've powered and how many trees you've saved. All state-of-the-art equipment has been hand-selected to perform strength, rehabilitation and core-based movements that support in popular activities including hiking, skiing, mountain biking, kayaking and rock climbing.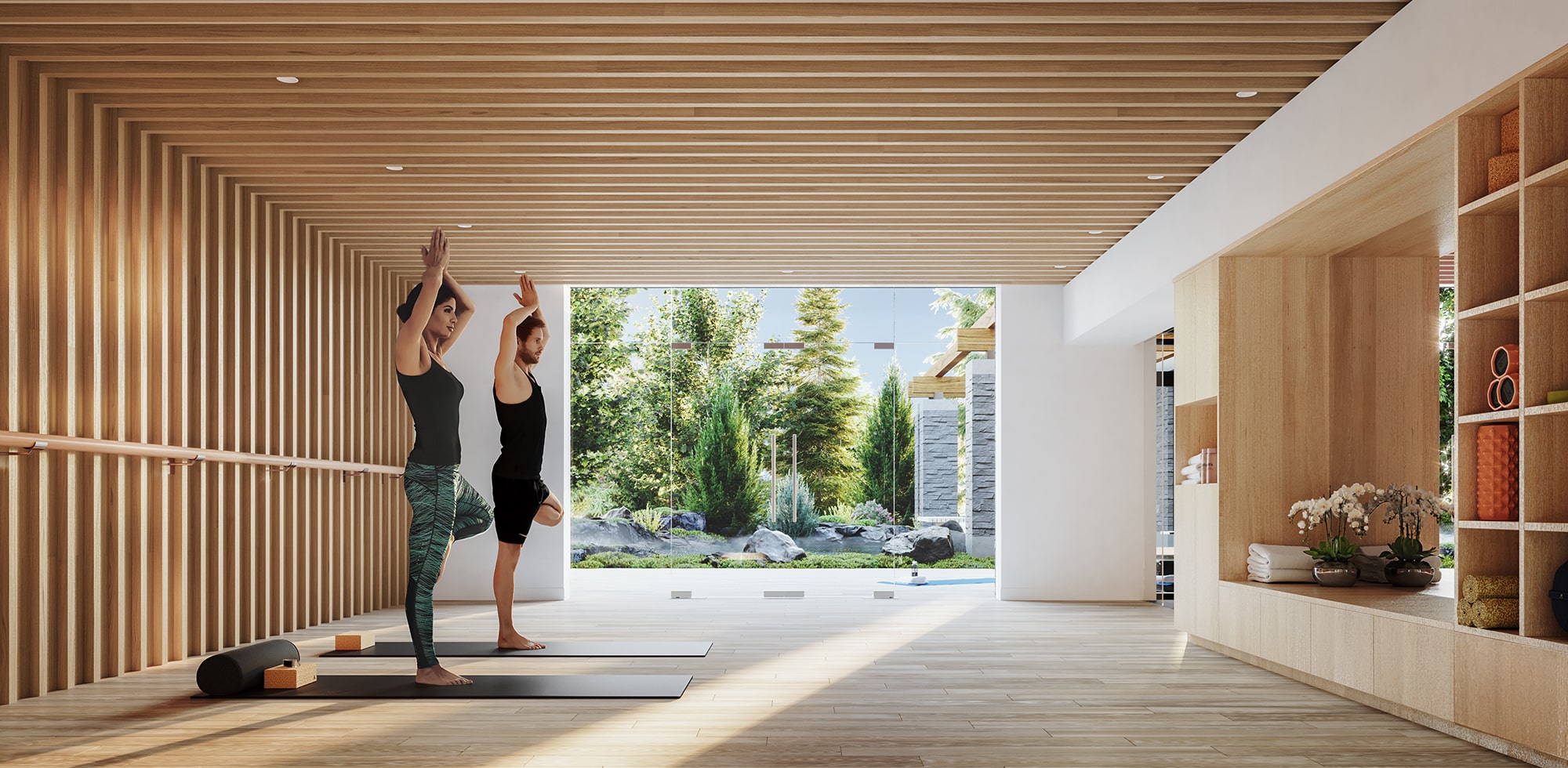 Balance Your Adrenaline. Achieve Your Flow State.
Being fully present in the moment. Being in the zone. The feeling of energized focus and the enjoyment of your movement. However you describe flow state, its benefits are undeniable for both the body and mind. Our Flow Space is a dedicataed studio for yoga, dance and barre, with floor-to-ceiling windows that open to seamlessly merge the indoor and outdoor practice spaces, and filling the interior with light and mountain-fresh air. This is your space to find your balance, your strength, and your joy.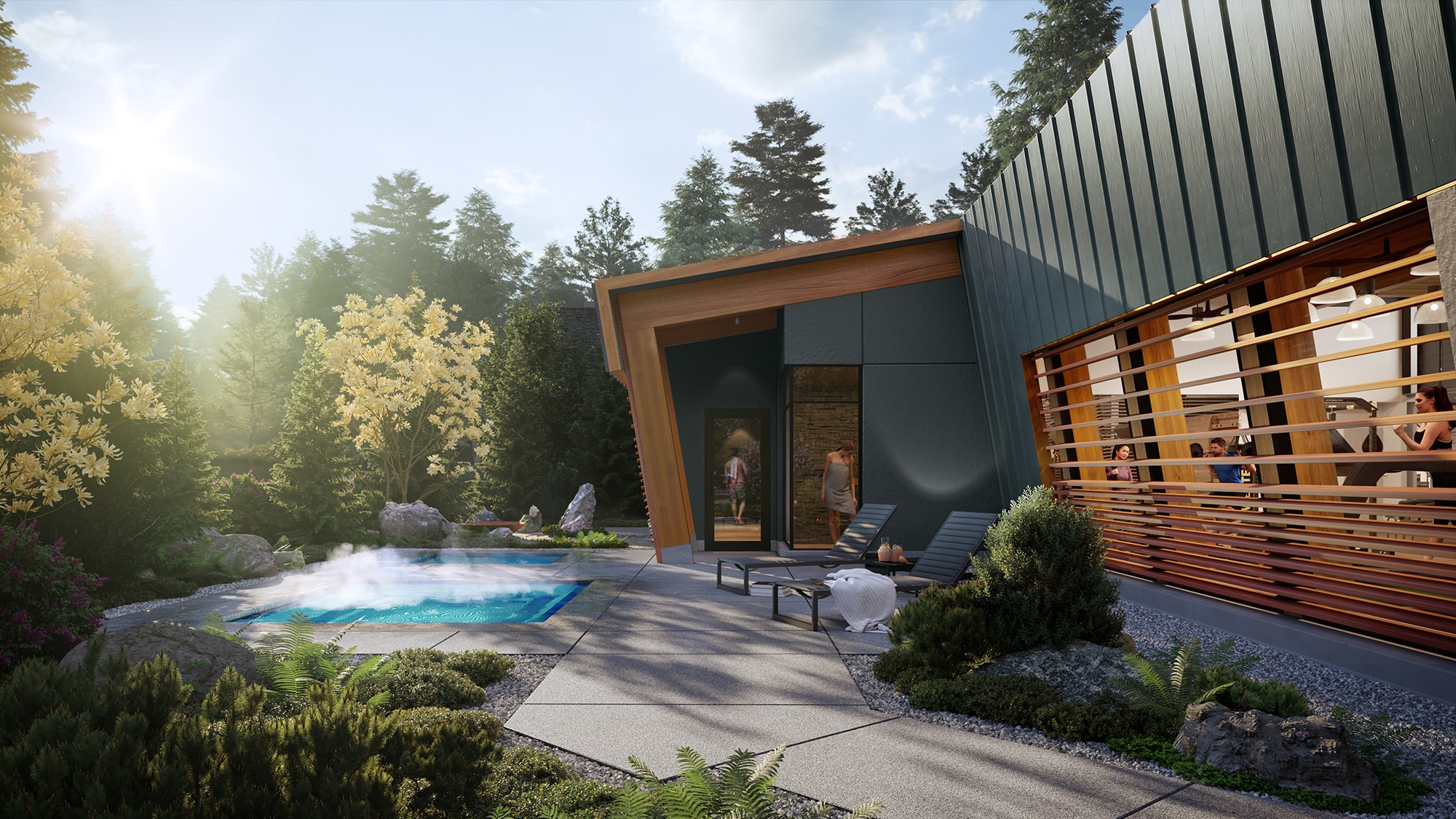 Relax.
Restore.
Recharge.
From a long week at work to a long climb up a mountain trail, there are many times when we should pause and invest in ourselves. At Base Camp™ you can make personal rejuvenation a habit, not a special occasion. Our premium spa experiences include therapeutic hot and cold plunge pools set in beautiful natural surrounds, far infrared sauna that provides a gentler heat while delivering greater immune-boosting circulatory benefits, and clinical-grade red light therapy rooms. These are designed to compliment your outdoor pursuits by improving muscle recovery and joint pain through deep-tissue metabolic activation to help you live the Squamish outdoor life to the full.